Welcome to the Cat in the Box Wiki!
We are currently maintaining 13 articles and 19 files on this wiki—and you can help!
This is the unofficial wiki dedicated to the game Cat in the Box by Gustav. Our goal is to gather and provide as much information on the game as possible—including secrets, Easter eggs, and more! Feel free to contribute and add to the wiki's knowledge. As always, remember to consult the Wiki Rules before doing so.
[WARNING: THIS WIKI CONTAINS SPOILERS!]
Game Description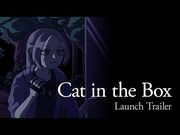 Cat in the Box is a horror adventure game. Help the poor girl explore the mansion and escape from unknown entities that are pursuing her. Use a variety of tools and your wits to overcome any challenges you face. At times, you'll even have to wake yourself from nightmares to survive..
Featured Articles
Need help building out this community?
You can also be part of the larger Fandom family of communities. Visit Fandom's Community Central!
Community Founders: Write a good and paragraph-length description for your welcome section about your topic. Let your readers know what your topic is about and add some general information about it. Then you should visit the admin dashboard for more tips.
Community content is available under
CC-BY-SA
unless otherwise noted.